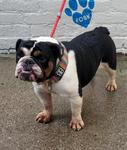 Date Found: 30th March 2022
Collar and tag Details:
Gender: Female
Status: Handover by owner
Where Found:
Description:
*** NOW TAKING APPOINTMENTS FOR COOKIE, PLEASE CALL 0151 556 1220 TO SPEAK WITH STAFF AND MAKE AN APPOINTMENT ***
BREED/AGE/COLOUR: British Bulldog, 2 years old, tricolour.
TYPE OF HOME: Cookie is looking for a calm & quiet home where she will be taken on regular short walks. Cookie does come with some health issues involving her back legs which will require lifelong medication & treatment, more details can be given. Cookie is already spayed, fully vaccinated and microchipped.
KIDS: 14 years and over.
DOGS: No.
CATS: No.
SMALL ANIMALS: No.
PREVIOUS HISTORY: We've been told that Cookie is house trained, can be left for short periods of time showing no signs of separation anxiety, loves toys (mainly rope toys!) and has shown signs of jealousy in the home around young children.