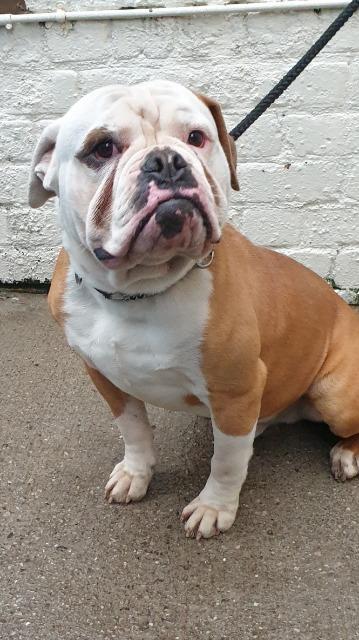 Date Found: 12th August 2020
Collar and tag Details: N/A
Gender: Male
Status: Handed over by owner.
Where Found: N/A
Description:
*** NO MORE APPLICATION FORMS WILL BE TAKEN AS BAILEY HAS INTROS LINED UP ***
Olde Tyme Bulldog
Tan & white
2 years old
Chipped
Bailey was handed back into our care through no fault of his own.
He has an age restriction of children over 6 years.
He can be a delicate little soul, nervous of new people, fearful of loud noises, fast movements & shouting.
Loves tennis balls, walks (although can struggle in the heat) & rope toys.
He can be a little pushy around other dogs but no aggression that we have seen, so introductions can be done with females & submissive neutered males.
Bailey does suffer with food allergies which shows with by way of diarrhoea.  We have him on a raw diet at the moment & we have noticed a great improvement but still a work in progress.  However this is something that needs to be taken into consideration if you are interested in him.  He can not be given human food, treats & at the moment we are not even ready to try different meats/flavours.
If you think you are suitable to offer Bailey his forever home or for more information on him please ring the kennels to book an appointment to meet him.
Please be aware that you may need to make multiple visits as previously stated he is nervous of new people.